Instrumental Rock
SEE REVIEW: "BlogCritics"
Available now on CD Baby and iTunes and check out their GarageBand.com website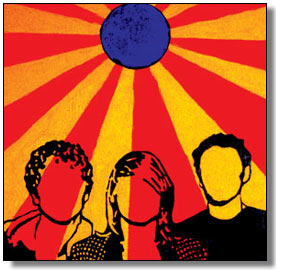 Listen to 2-minutes of music preview and see video HERE
Independent record label Mnemonic Records released its first title "The Wilted" in 2007 — an instrumental rock album from the band of the same name. Hailing from the heart of Silicon Valley in Menlo Park, California, the band recorded the album during their first few weeks of summer after high school was out. Lead guitarist Julien de Benedictis wrote nine of the instrumentals, including the opening opus "Way Too Late," while rhythm guitarist Trevor White brought "Make It My Own" to the project. Chris Holyoake rounds out the band manning the drums.
The album was recorded at Hibiki Studios, in Mountain View, CA by recording engineer Peter Thomas, with the band performing all the songs live, direct to Digidesign Pro Tools with only a couple of partial overdubs for guitar solos. The music was mixed by engineer/producer Karl Derfler (The Verve Pipe, Big Head Todd & the Monsters, Live, Dave Mathews Band, No Doubt, Stroke 9, Tom Waits), where the album got its boost of bigger-than-life guitar sound at Bay View Studios, in Richmond, CA, with a host of vintage and modern outboard gear, and the beautifully restored vintage 'Trident A Range' console. The music disk was mastered by Michael Romanowski at San Francisco's Paul Stubblebine Mastering.
As feedback came in from preview copies of the CD, the band began to pick up some complimentary comparisons an instrumental version of Wolfmother, Queens of the Stone Age and Bush. More obscure, yet praising, connections were noted to Karma to Burn and Kyuss.
On iTunes customer reviews, CMP Block Monsta said, "The Wilted are tight, the guitar is sick...we need more rock like this on iTunes." eString added, "Heavy, atmospheric instrumental hard rock. Pounding drums and layers of huge guitars. Killer production creates a smokey ambience. Great effort from some talented unknowns.…"

Reviews on GarageBand.com netted the band a "Track of the Day" award and took them to #79 on the Instrumental Rock charts..."At times this song reminds me of the band Jet, at other times it reminds me of Rush's first album. I know this is in the instrumental category but I imagined vintage Geddy Lee shouting over some the riffs. The guitars sound good. Nice and crisp." says one GarageBand.com reviewer. See other reviews for "Filling Me In" on the song page.

Julien de Benedictis, Chris Holyoake, Trevor White (from left)
photo by Rick English
Album cover art by Rita Bullwinkel
Web site and all contents © Copyright Mnemonic Records 2014, All rights reserved.